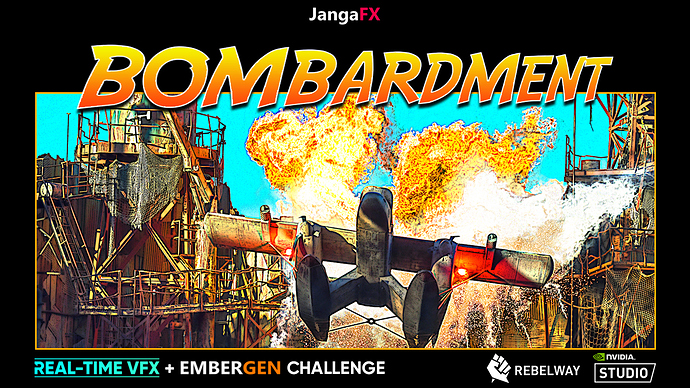 JANGAFX PRESENTS: BOMBARDMENT, AN EMBERGEN CHALLENGE.
It's Launch day! The subject for our Embergen Challenge is: BOMBARDMENT!
Whether planes are dropping bombs, giant ice shards are falling out of the sky, or a planet is being bombarded with lasers, the topic "BOMBARDMENT" is open to a wide range of interpretation and we can't wait to see what you come up with!
Please see our initial announcement thread for details on how to get your free 2 month EmberGen license for the competition.
How to Enter:

Create a new topic in the Embergen Challenge Event Category with your name and "Embergen Challenge" in the title (like this: Yoda Rimu: Embergen Challenge) and post your updates to your topic during the competition.
If needed, claim your free EmberGen license here.
When you're finished with your entry and you're ready to submit, edit your first post so it holds the final effect in the form of a Youtube, Vimeo, or GIF link.
Finally, submit your final video to JangaFX using this Form
The challenge runs from July 31, 2020 at 12:00pm ET until August 31, 2020 at 11:59pm ET. All entries must be submitted by August 31, 2020 at 11:59pm ET in order to be included in the challenge.
Required Elements:
Must be a minimum of 5 seconds long
Has to utilize Embergen as a central part of your production pipeline
Final asset must be a recorded video from within a game engine
Your final submission video must be a resolution of at least 1920 x 1080, and be less than 100mb.
We can take most standard video formats, but .mp4 with H.264 encoding is our preference.
Must submit work-in-progress (WIP) updates throughout the creation process
Judging Criteria:
Your work is technically and artistically well-executed
You showed WIP progress updates throughout the month
Followed challenge rules
General badassery
Important Notes:
Always cite your sources! Is your work based on someone else's? Let us know! Always show your references.
Do feel free to use any tool, system or workflow that suits your needs, as long as you utilize Embergen and your final result is recorded from a game engine.
You cannot use other simulation programs like Houdini, FumeFX, turbulenceFD, etc to create flipbooks.
All entries must be made during the running period shown below.
Using an environment/background for presentation is encouraged - even a simple one! But note that a detailed environment should serve only to convey the story behind your visual effects. You are not judged on how good your environment art is.
Prizing:

One First Prize Winner

One Second Prize Winner

One Third Prize Winner

Two Honorable Mentions

REALTIME VFX OFFICIAL CHALLENGE RULES
(Sorry this is a wall of text…)
Deadline for Entries
The Deadline for entries is August 31, 2020 at 11:59pm ET.
Winners Announcement
Winners will be announced and posted on RealTimeVFX.com on September 7, 2020 by 12:00pm ET.
Eligibility
Artists participating in the JangaFX Embergen Challenge must be a member of RealTimeVFX.com (registration to RealTimeVFX.com is free). Entry is limited to individual artists so team entries are not eligible.
Final Work
The final work must be submitted to JangaFX as a video through the online survey form, and shared in a topic on RealtimeVFX.com under the "Challenge II: Embergen Bombardment" Category with your name and "Embergen Challenge" in the title (ex: Yoda Rimu: Embergen Challenge) . You can use any 2D or 3D techniques so long as the brief is addressed.
Your final submission must be a resolution of at least 1920 x 1080, and no more than 100mb. We can take most standard video formats, but .mp4 with H.264 encoding is our preference.
Work-In-Progress (WIP)
WIP materials must be posted in your challenge thread throughout the challenge.
Original Artwork
Entries must be new artworks specifically made by you for this challenge.
Judging
Judging will be done by a panel chosen by JangaFX and announced here. The judges' decisions will be final.
Terms of Publicity
The entrant grants JangaFX, LLC, RealtimeVFX, LLC and challenge sponsors a perpetual license to use all entered materials in any media for marketing and merchandising. Good faith efforts will be made to provide credits back to the original artists when possible.
Entrants retain the copyright and all ownership rights of entered materials and are free to use said materials for personal promotion.
The entrants have permission to share their entry progress on social media networks during the challenge.
Disqualifications
Any image deemed to contain content that depicts racial, political, religious or any other inflammatory material in an inappropriate manner may be disqualified and removed. Interpretation of what is and is not appropriate materials is at the sole discretion of JangaFX and RealTimeVFX.
For more details and the full terms and conditions, click here.