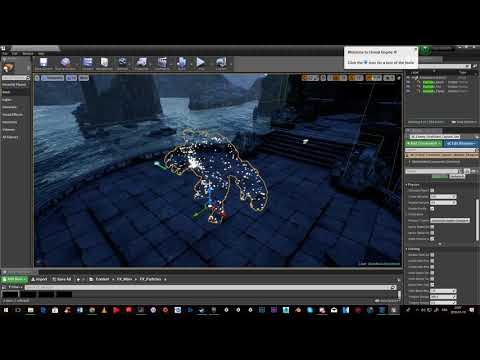 Hi there,
I have a problem that i'm trying to solve since a few days but can't come up with anything by my own so i'm asking there. As you can see in the video, i made some particles spawn on a skeletal mesh to give it some kind of noisy ghost shape. Easy part.
The problem is that the particles disappears on a specific angles and i don't know why. So i tried : To increase the bounding box/make the particles follow the camera in the required module/set the naterial to be double sided/and other things that probably doesn't makes sense… But nothing.
So, i have 2 questions :
1/ How to solve this problem ?
2/ If there are no answers: Is it possible to achieve this via a custom shader ? To make spawn the same texture multiple time and at different location of the surface of a mesh ? If so, how ?
Edit 1: Now that i think about it, there is the mesh material that i set to 0 in the opacity so only the particles attached to it are visible. That's may be the reason why this doesn't allow the particles to render properly.
Edit 2(WRONG): Found the solution on my own a while ago but i thought i sghould share it in case people would encounter the same issue. So, it appears that using set fixed bound caused this to happen. Just keep it unckecked and you should be fine. I don't know why, but at least it solved my problem.

EDIT 3: My bad, back then, in my own confusion, i forgot to both increase the bounds values and to check the set fixed bounds. Now it BOTH works and makes sense. It was just me being a biggot. Thanks to Alex for helping me realising it.