Hi everyone! This is my first time participating in a monthly challenge.
I'm going to use UE4 and it's Niagara particle system.
Final effect

High resolution:

Brainstorming
The first thing I did was brainstorming elements that I associated with cute.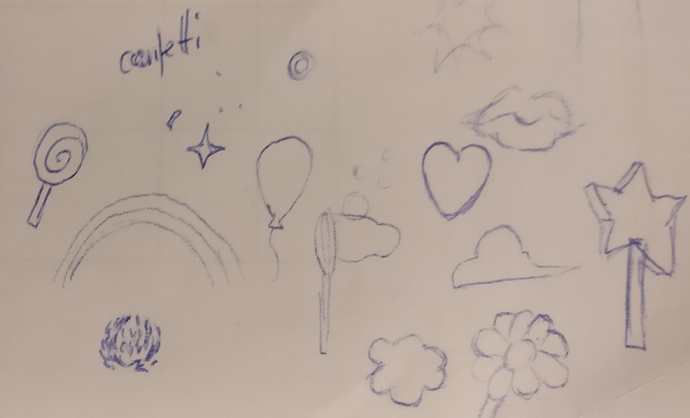 Hearts, clouds, cotton candy, flowers, rainbows, candy, sparkles, confetti, soap bubbles, fairies, everything colorful, the color pink, ect.
Shape is an important part of cuteness. Cute shapes usually have these characteristics:
Round, bulky and a height similar to it's width. Michael gives a good example of how you can make an ordinary thing (hammer) look cute: https://youtu.be/Z0zConOPZ8Y?t=105
I liked the idea of making a soap bubble, so that is what I based my idea around. The challenge is about elemental magic. Since soap bubbles are made of water, I decided to have all other elements consistent with the water theme. I noticed that I had two water-related elements from my brainstorming. Rainbows and clouds. I thought that I might add these to my effect.
Here is what I came up with:

It's a heart shaped soap bubble that captures a target, shrink it, fills itself with red liquid and explodes in a rainbow. The target turns pink and shiny. I later added the cloud placing the target softly on the ground.
I'm very exited to to be a part of this community and I can't wait to see what everyone can come up with! Good luck to everyone participating!