Hey folks, does anyone know if it's possible to get a ribbon to tile properly in 4.27 while also having a train track effect?
Below are examples of each element-
In this example, it tiles like I want, but as soon as it begins moving it gets crunchy/jittery and slithers around, being jerked by the source (looks low FPS). Setting "TILED (BY SEGMENT LENGTH)"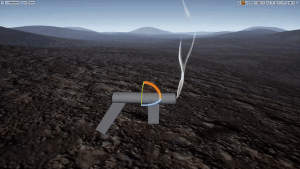 In this example, it doesn't tile at all? (hard to tell) but when it moves it draws smoothly like I'd want with no jerking/jittering. Setting "TILE BY DISTANCE (BY PARTICLES.RIBBONUVDISTANCE)"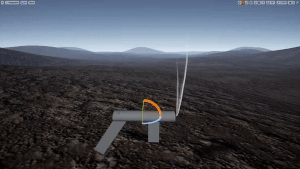 Is there a way to get both elements? (nice tiling + train-tracking)
Previously in 4.26 this method seemed to work just using the "UOverride" + "Engine Time" method. That doesn't appear to work anymore? The "Enable Per Particle UOverride" setting is disabled now when changing UV modes, previously it didn't do that in 4.26.


This setting now disables UV mode in 4.27+; previously it allowed you to enable it while also tiling.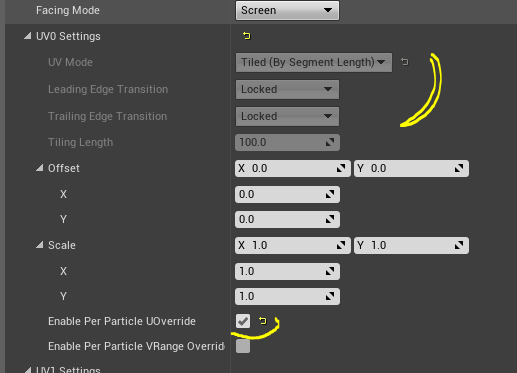 Ribbon Tiling Settings for 4.27+ (UOverride not available when used)


Here's 4.27's description of "tile by distance". It says based on "tile length and ribbon uv distance". I've tried fiddling with both values (extreme/tiny) but haven't had any luck. I've even tried adjusting it via the Texture Coordinate inside the material but it seems to ignore that.

For context, here's what 4.26 had for options previously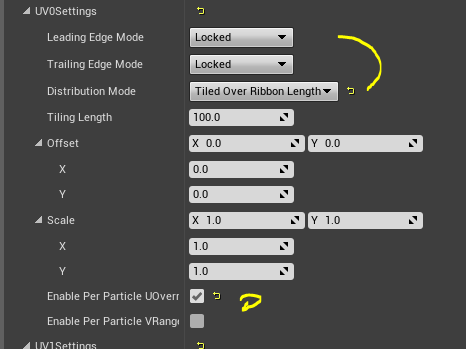 Settings available in 4.26

Here's an example of what I want (4.26, using Engine Time method above). Here you can see it's tiling when static, but it's also smooth when moving (stretching but smooth). Overall its "smooth" without any jittering which is what i'm looking for. Any ideas?