Hey guys,
I've been doing some experimenting lately and wanted to show you some of my results. Shannon Berkes comment about using the shit out of gradient mapping made me think about how to use it inside the engine with particles. I think this is super useful and offers new possibilities color-wise.
I'm certainly not the first one to try this, but i've never seen someone post anything about it, so i made a small tutorial on how to do it in UE4.
This is the basic material setup for UE4: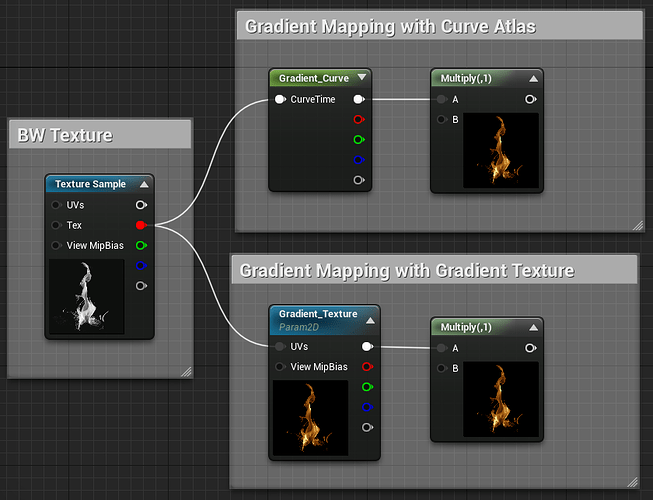 Not the best example, but you can see some of the gradient mapping in action here:
Changing gradiens inside Unreal via the new CurveAtlas feature:
And here is a simpler example, in which I use random gradients to change the color of each particle. It's just two mesh particles with some noise texture panning applied to it.
GIF fires several times before looping, notice the slight variations in color each time the effect fires
I'm still experimenting on this, so far my thoughts on it in summary:
PRO:
More color variation without the loss of detail
Particles not bound to one particular color texture
Less memory needed than with a regular color texture
CONTRA:
Sometimes difficult to map the gradient colors exactly to what you have in mind
Particle shader is more complex
Do you guys ever used gradient mapping for vfx? Any ideas on this topic, pros cons?