(above gif is just an updated thumbnail to reflect latest)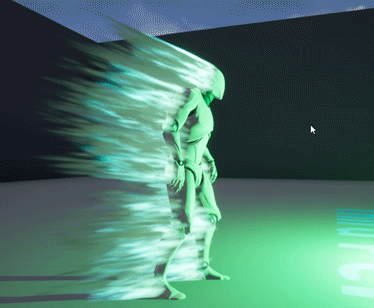 Hey all! Thought I'd start one of these sketch threads, showing not only a finalized product, but also the journey and lessons learned along the way. It's hard to tell yourself something is 'done' when its just for your personal enjoyment, but with this I hope to just share big and small things.
I have gotten really into UE4s Niagara lately. The flexibility of this system compared to what Cascade offer is astounding.
I have started on a series of modules that emits and controls particles, as emitted from a mesh, projected from a point. This is ideal to make energies that 'burn' away particles along the edges of the mesh, or to cast shadows consisting of particles.
Youtube vid of what i have so far
In essence, it emit particles from the mesh, with start position - engine position as velocity vector. Then an update module will check the if it behind, in front of or to the side of the mesh, in relation with the energy source, and write it to a particle namespace. This can be used as indexes on curve graphs to make the modules appear in and out of the shadow of the character, etc.
Another module will make particles follow behind the mesh, instead of staying behind.
This is how it looks without that module.
So far I am mostly messing around with the modules and making sure they are technically sound, but next I want to get started and make a more concrete concept.