Hey folks, so I was creating some light swoosh sketches in Unity, but I struggled a bit with the large soft trail part.
I wanted to create a setup which would work for winding motion paths from a 1st person perspective, but I couldn't find a setup that looks:
soft and smooth
with a consistend thickness
from all angles
This is what my final VFX sketches look like, to give you an idea of what I wanted to achieve: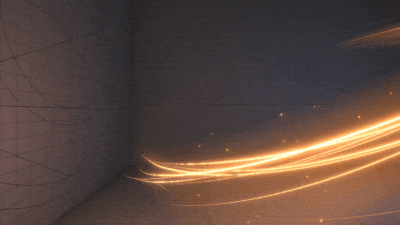 (more and larger here: Klaus' VFX Sketchbook - #25 by Foxician)
These are the approaches I've tried, that I found to be not good enough:
Unity's Trail Renderer using the alignment "View". The generated mesh overlaps itself when you look at it from a flat angle, leading to bright artifacts:


Trail Renderer using the alignment "Transform Z" with a vertically oriented trail. The mesh twists at some point:


Trail Renderer using the alignment "Transform Z" with a horizontally oriented trail. The mesh looks too flat:


Two intersecting Trail Renderers using the alignment "Transform Z" with diagonally oriented trails, one almost horizontal, the other as vertical as possible without getting a full twist. The idea was for them to complement each other. It's still very visible where one trail flips its facing direction though, especially because it billows a bit:

---
I ended up using this approach, unfortunately it only works for a circular path:
Two intersecting cones - similar to the approach with two trail renderers, but since it's a static mesh, I got rid of the billowing motion. It would look a bit better if I animated the the texture instead of rotating the whole object, but rotating the object was faster and doesn't matter for this VFX piece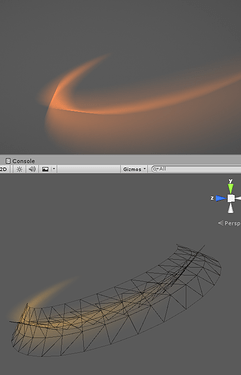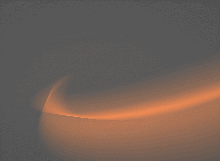 ---
Thoughts about further approaches:
Maybe a procedural mesh trail would work to get a similar result to the cones (or it would pose the same problems as the trail renderers).
I found the following two trail tools on the Asset Store, but didn't try them (since it was only a sketch I didn't want to spend money on something that might work ):
• Unico Mesh Trail | Particles/Effects | Unity Asset Store
• Ara Trails | Particles/Effects | Unity Asset Store

My last idea was to find a volumetric shader (I don't know how to create one), but that would probably also only work for a fixed path and I'm not sure if it could be animated without too much difficulty.
---
So I am wondering: Is there an approach that works better? Or is this something that has no perfect solution and you would just conceal the imperfect parts with the rest of the composition?
Thank you for your time!