Thumbnail: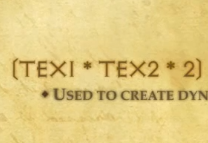 Hi lovely people,
I wonder many layers you have available in your generic uber shaders, how you blend the layers (additive, multiply or a mixture?) and what control you have besides UV scrolling. I'm often unsure what a good setup would be and end up with several different shaders or many many many switches in my uber shader.
For a bit context, here are approaches from other games:



— Diablo3 —
From the great d3 vfx talk we know, that they blend at least:
RGB: 2 Layers, multiply
ALPHA: 4 Layers, multiply (3x tileable texture, 1x mask for soft edges)




— X:Rebirth —
In a space sim I worked a while, we had a different approach:
RGB: 2 Layers, additive
ALPHA: 3 Layers, multiply (2x tileable texture, 1x mask for soft edges)



— My Approach —
Right now, my shaders often use :
ALPHA: 4 gray scale layers (3x tileable texture, 1x mask for soft edges)
RGB: 1 LUT-Gradient (which colorizes the 4 layers used for the alpha, this is used as RGB)
Distortion: A grayscale- or normalmap which distorts everything except the 1 mask for soft edges
Sometimes I add switches for different UV sets e.g. special UVs for trails, radial UVs or flipped UVs.
Sometimes I blend the layers additive, sometimes by multiply or sometimes via screen blend. In any case I often need some extra controls to push the intensity of the layers. Here for example is my Unreal version of the diablo talk but it does not work as well as in their example - the shapes are not strong enough I think.
That's why I often provide a multiplier to boost everything. Here I used *4.0 (instead of *2.0):
I wonder how you guys doing this.
Are you using "real" RGB textures or are you doing it like me by blending grayscale textures and colorizing via LUT?
Do you also provide multipliers to push (all or only certain) layers?
Are you using UV distortion and if so, do you distort via grayscale or normal map?
Do you use switches to enable different blending between layers or did you set for one option (multiply, additive, screen, …?)
How many layers do you offer to be used?
How do you blend between the layer?
Do you offer different switches for different UV sets?
I'm looking forward for your answers!
Have a very nice day,
Simon