Hi everyone,
For 2022, I really want to dive into fluid simulation at runtime with Unreal and Niagara. With that said, I'm currently gathering some references, documents, tutorials, or anything alike related to fluid sims.
The Returnal VFX Breakdown is one of my main references for this year training, mainly for what they refer to as "Global fluid simulation" that influence all VFXs in the game.

I've found some knowledge about Unreal/Niagara fluid simulation at runtime already, but I'm struggling to find something similar to the 3D "airflow" system that can be seen in The Returnal Breakdown. The idea is to create a vector gris that will be influenced by actors and then use it to control spawned VFXs variables depending on vector direction and strengh (as far as I understand it).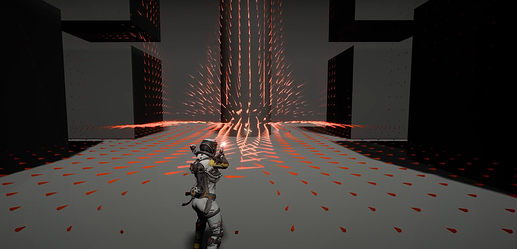 Any link to documentation or talk about this kind of feature would be really nice to have, if any of you have something to share

I also plan to look into FluidNinjaLive later, but to begin with I really wanted to start by acquiring some knowledge about features like this one I'm looking for or like Niagara simulation stages before using a dedicated tool without understanding at least a bit how it works.
Thanks in advance for you help everyone, and feel free to ask if something is not clear enough!