Hey VFX Community!
The excitement over the competition, both from participants and sponsors has been phenomenal, and because of it PopcornFX has pulled together some amazing prize packages for us. Let's give a HUGE thanks to our competition sponsors:
PopcornFX
Houdini by SideFX
Substance by Allegorithmic
NVIDIA
Wacom
Check out the exciting prize lineup they're providing for us: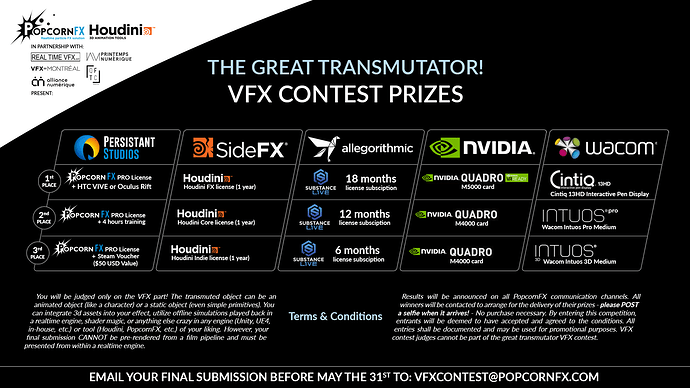 We've also formalized our prestigious panel of judges for the submissions:
Thank you Iki Ikram, David Johnson, Ciaran Devine, Gregor Lakner, and Mathieu Martinet!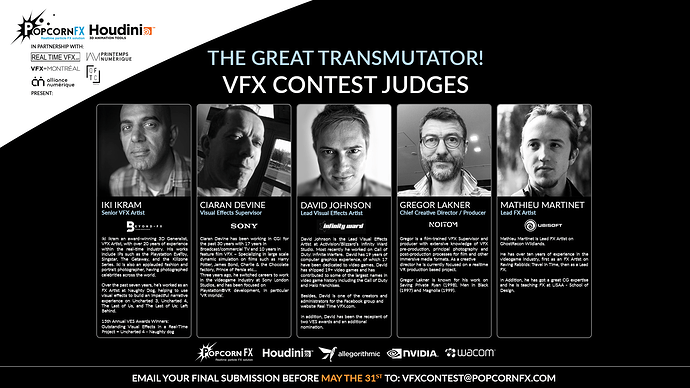 And finally, we've extended the deadline so more people can participate in this amazing setup! Submissions will be accepted until May 31st!
Another huge thanks to our partners PopcornFX, Printemps Numérique, BCTQ / QFTC #VFXmontreal, Alliance Numérique
For more information on the submission process, etc, please see our original competition announcement here: