Hi folks. Taking inspiration from the awesome curve sweeper tutorial and setup from @Partikel and chatting to @Keyserito at GDC I thought it might be nice to have some handy tools that generate the simple meshes we often use for vfx. The focus is on a tool that will generate the mesh, layout the uvs and add vertex colour. And ideally you could do this in the game engine instead of having to go back and forth with your DCC package.
As a first pass I've created a cylinder and disc generator that have a bunch of controls to create the kind of variations you see in the video below. I'm curious to know what other simple mesh shapes you find yourself constantly making so I can expand the toolset. And hopefully soon I can release these simple HDA's for feedback.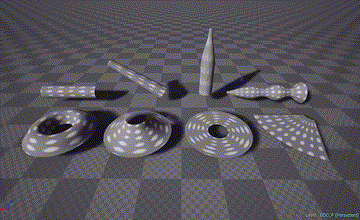 And… I've just realised @frontakk started doing something similar.