Hi!
Even though I'm sure it's more of a noob question, than a technical problem…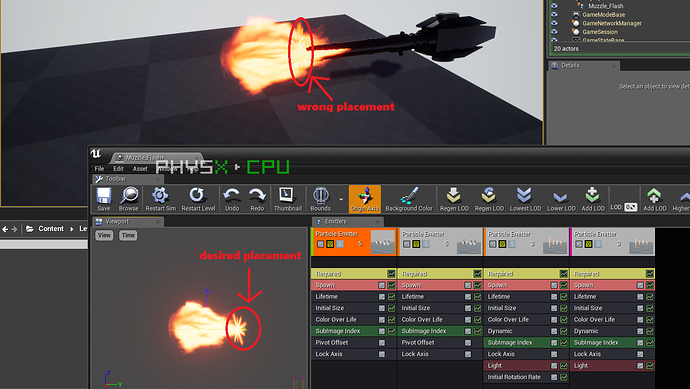 UE4/Cascade
What makes effect look completely wrong in the level, when everything looks correct in cascade? I had to push numbers here and there to at least resemble what it was suppose to be.
Although, one thing I cannot (don't know how to) correct - the star-like flash that suppose to be on one edge of fire-like flash and needs to come out of the muzzle first. And it is almost in the middle of fire flash in the level.
I can think of only one solution - make two separate particle systems (star-like and fire-like flash) and attach them one after another. I don't even know, if it's going to work. I am really 'green' at this.
Please, share your knowledge/techniques, or point me to some sort of tutorial, that I must've missed, while possibly wrongly wording the issue.
P.S. in this case, please ignore effect itself. I will tweak it, once this issue is fixed