Hi Everyone!
I've been learning from all of you for the last year and finally made an account, so I thought I would introduce myself with the first VFX that I built in my first week of hands-on learning with Unity.
I'm currently a UI/UX designer at Blizzard (specifically working in Ecommerce), with past experience as a Graphic Artist at Obsidian Entertainment. One of my goals for 2020 was to explore some areas of art and design that have always interested me as possible career developments. Over that time I started to realize how much I have always loved VFX as an art form and how clearly it intersects with my own skills and passions. Now I'm neck deep in learning VFX and excited about continuing to grow with all of you!
On to the fun stuff!
As 2020 ended and 2021 began, I crafted some Dawn Magic which cuts through and consumes the accumulated darkness of the long night to bring forth a powerful and glorious dawn.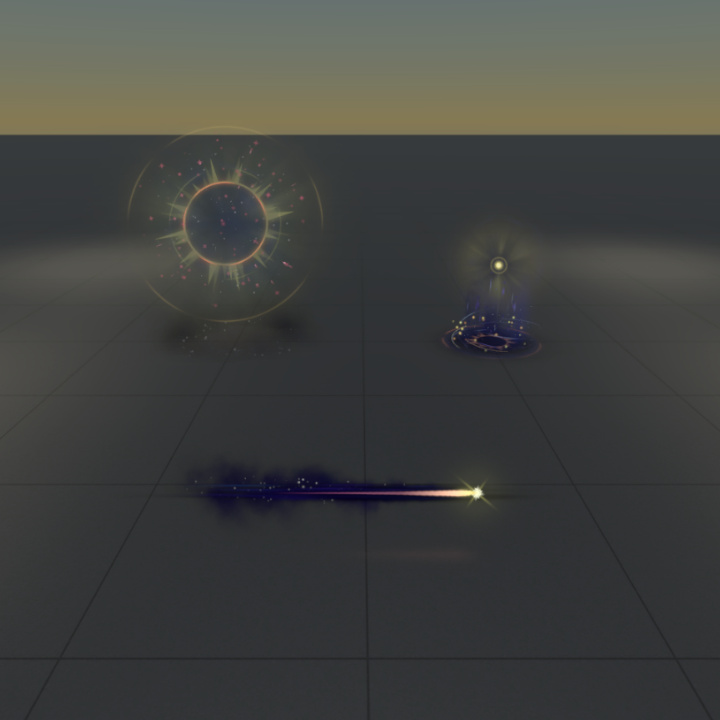 Dawnbreak:
A vortex of inky darkness implodes into a large, bright flash of dawn light.
Dayspring:
A central point sucks in darkness and pulses with a cleansing dawn.
Piercing Light:
A trail of dawn colored light pierces through streaks of darkness, burning it away to whisps of smoke before creating a small burst of shimmering light.
In the last week of the year I finally got the motivation to stop just watching and reading about realtime VFX and actually get to learning Unity first hand. It was a really great learning experience. These 3 effects were all done with really simple additive and alpha-blend shaders, but I was able to get familiar with the base particle systems, painting textures, and nudging it all to death.
It's not quite where I would like it to be (needs better shape definition and visual/palette cohesion, and it's overly busy in some places because I went crazy with the particles, lol), but it was a great learning process.
Next up is more complex shaders for animated/procedural textures and actually building out some meshes! I'm really excited to keep learning!
Thank you all again for the amazing write-ups and tutorials. Hours long binges of @Keyserito, @Sirhaian, and @GabrielAguiar aren't great for my sleep schedule, but they're great for the soul!
I also want to thank @SarahCarmody for taking the time to talk with me about her experience in the industry, which gave me the motivation to dive into new things and find a new passion!