Hey all, I just wanted to do a bit of show-and-tell!
An engineer at work posed me the question "What would your ideal effect editor look like?", and no matter how I tried to formulate myself, the answer kept just being a variation of "I want it to be like Houdini". But the more I thought about it, the more I realized that getting a realtime particle system running using Houdini might not be that difficult after all!
So I went ahead and made NodeFX, which basically allows you to design your particle system using VOP nodes, with all the cool benefits of the Houdini node interface. It supports most of the features available in Shuriken, so values can be constant, curved, or randomized. And thanks to the nature of node editors, you can create some quite complex relationships between all your attributes, which allows for some really interesting iteration workflows usually only seen in more script-based particle editors.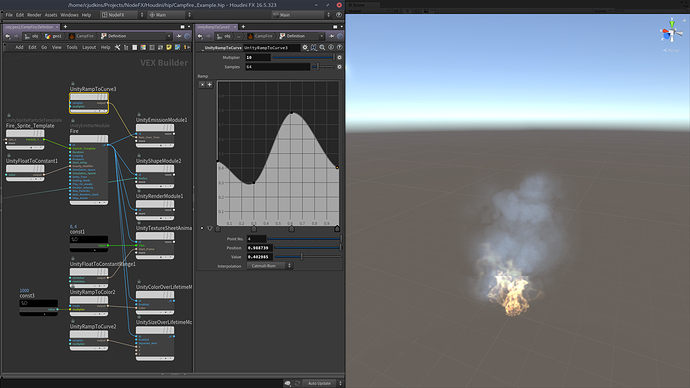 Worth noting is that this does not extend the functionality of Shuriken in any way, this is simply meant as a creative replacement for its interface
Feel free to download the tool and play around with it a bit! At it's current stage it's not really meant to replace your entire workflow, I'm mostly just hoping that it'll help inspire effects artists and tool developers alike to create some nifty new workflows for authoing VFX. I'd love to hear what you think about it!