2 Million Yen = ~17.886,21USD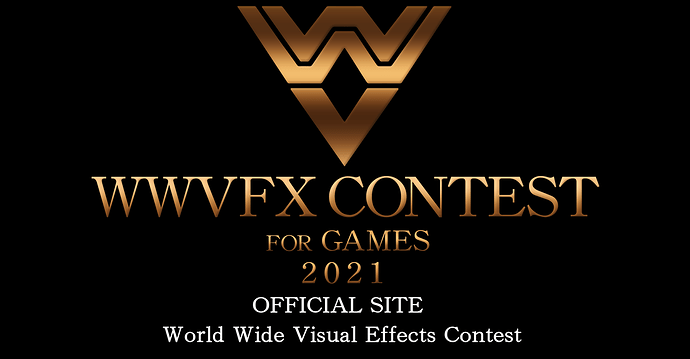 Submissions for WWWVFX Contest are now officially open!
Official WWVFX CONTEST FOR GAMES 2021 website:
WWVFX CONTEST FOR GAMES 2021 OFFICIAL SITE – World Wide Visual Effects Contest
Official WWVFX CONTEST FOR GAMES 2021 social media accounts:
Discord: WWVFX Contest 2021 Community
Twitter: https://twitter.com/wwVFX
Facebook: https://www.facebook.com/WWVFXCONTESTFORGAMES2021
Instagram: https://www.instagram.com/wwVFXcontest/?hl=ja
Use the hashtag #wwvfx and have fun spreading the news!
---
¥2.0 million in total prize money! As of Friday, October 1st, the WWVFX CONTEST FOR GAMES 2021 has started.
Now is the chance for you to show the whole world your amazing Effects!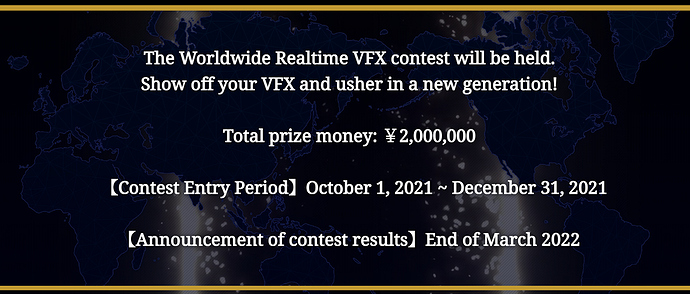 Today, Friday, October 1st, Agni-Flare has started accepting submissions for WWVFX CONTEST FOR GAMES 2021, a global, real-time VFX design competition that they are hosting.
A lineup of nine different awards!
Compete with others around the world for the category-free top prize!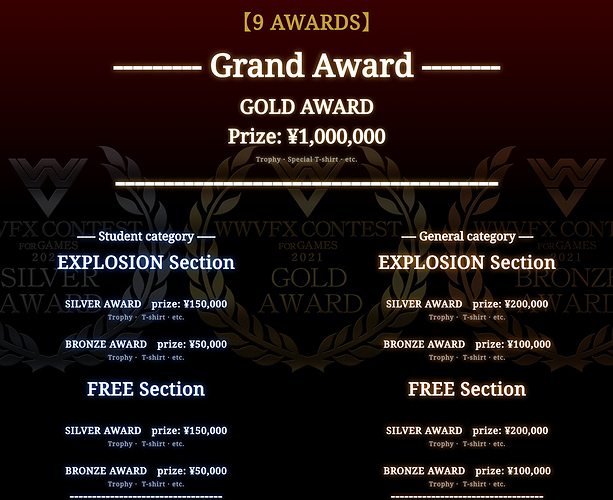 The Contest is accepting submissions in two major categories: Student and General.
There are a total of nine different awards; the Student category and the General category each have an Explosion section, for works that regard explosions, and a Free section, for works on any topic.
Besides the prize money, winners of the category will be awarded trophies, and wonderful prizes from the supporting companies, things such as promotional items, software licenses, stickers, and T-shirts.
What's more, there will also be a "Gold Award", a top award that submissions in all categories and sections will be eligible for. The person who is awarded the Gold Award will receive ¥1.0 million, the highest prize awarded by the Contest.
During the Contest, we plan to stream special seminar videos from the supporting companies and schools, and anyone who wishes will be able to watch these videos, so be sure to check and follow the official website and social media accounts.
Once the judging for the Contest is complete, we will be streaming the awards ceremony on the web, giving you the opportunity to witness in real time the emergence of new stars and new forms of expression.
We hope that, spurred on by ambition for success, and that you will take up the challenge and participate in the Contest.
Based on nine rules and decided by nine judges!
Submissions evaluated rigorously by a panel composed of representatives of leading companies in the industry and artists active at the forefront of the field!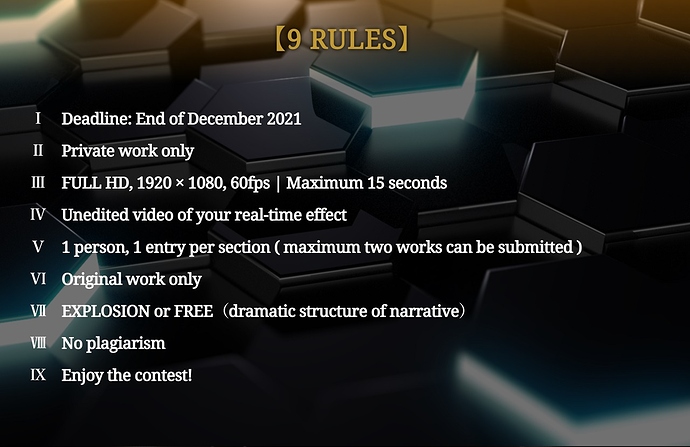 In the Contest, entries will be examined in a unique way: they must comply with nine rules and be evaluated by nine judges.
The evaluation will be carried out by representatives of leading companies in the industry and by VFX artists active in the field.
With their professional perspective, the judges will assign point scores to the artistic elements of each work and subject the works to rigorous evaluation.
These top artists will examine the works fairly and thoroughly, ensuring that the quality of each work is appraised properly. For details such as the submission rules, the judging process, and updated information, please check the Contest's official website.




Go to our official social media accounts to share info!
The Contest has set up official social media accounts to serve as communities for people interested in VFX.
If you want to enjoy interacting, exchanging information, and chatting with others who share your interest in visual effects, please register on — and follow — our official social media accounts. On our social media accounts, from time to time we will be posting new information, contest updates, event information, campaign information, and more, so please do check these accounts.




Contest overview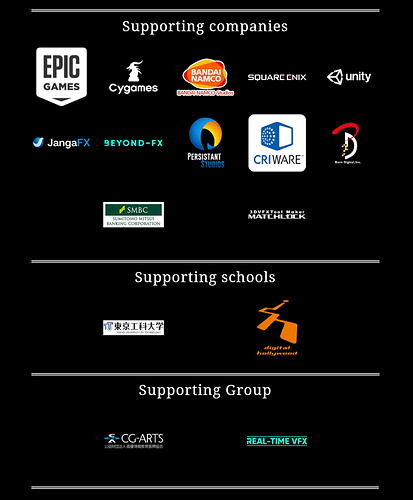 The Contest is a competition among VFX artists, the aim of the competition is to help more people experience the fun of visual effects, mainly in the gaming industry.
To enter the Contest, no qualifications are required! The Contest, which invites submissions from all over the globe, is a worldwide event in which artists from around the world compete against each other in expressing themselves through VFX.
Through the Contest, we want to energize the entire VFX industry by revitalizing the VFX community, uncovering new stars among VFX artists. The Contest is endorsed and supported by corporations that are currently very influential in the industry of gaming and 3DCG design.
This is your chance to test your imagination against a large number of other artists in an intense competition of expression.
We are looking forward to seeing your amazing Effects!
---
■Company Profile
Company name : AGNI-FLARE CO., LTD.
Representative: Takeshi Inaba
Location : HF Shin-Yokohama Building 6F, 2-17-19 Shin-Yokohama, Kohoku-ku, Yokohama City, Kanagawa Prefecture
Establishment: December 21, 2010
Business description:
Computer graphics VFX production for video and games
Planning and production of images using computer graphics
Sales and licensing of still image and video material data
Development of applications for mobile devices
Development of software for home video game consoles
fee-charging job placement business
Worker dispatch business
All businesses incidental to the above
URL : https://www.agni-flare.com/eng/
Copyright © 2021 AGNI-FLARE CO., LTD. All Rights Reserved.