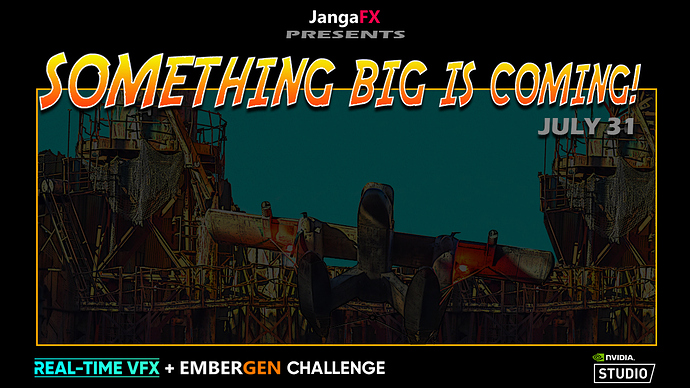 Attention all real-time VFX Artists!
We're excited to announce a collaboration between JangaFX and Realtimevfx.com to bring you a new Sponsored VFX Challenge! This competition will require you to use EmberGen as your main source of texture assets for the visual effects you create, though other programs like photoshop can be used to create other texture assets as needed. Other simulation tools like Houdini, FumeFX, TurbulenceFD, etc are not allowed for your flipbook creation (but anything else besides your flipbooks is fair game!).
We'll announce the full title challenge subject, details, and more when we launch everything on July 31st.
Starting today, JangaFX will provide all entrants with a free 2 month license to EmberGen, and we highly encourage you to dive into the software today so you're ready for the Challenge launch. This will be an exciting opportunity for you to refine your real-time VFX skills and become acquainted with a tool that is quickly becoming a standard in the games industry.
We've also partnered with NVIDIA Studio to put together an exciting prize package for the selected winners of this challenge. We'll be sharing more information on Launch Day - July 31st, so stay tuned!
How To Get Started