Update
https://gph.is/2KehqsN
---
Hello,
I`m currently working on a targetting script, using a missile launcher as an example. The missile trails and models are nothing fancy, just placeholders.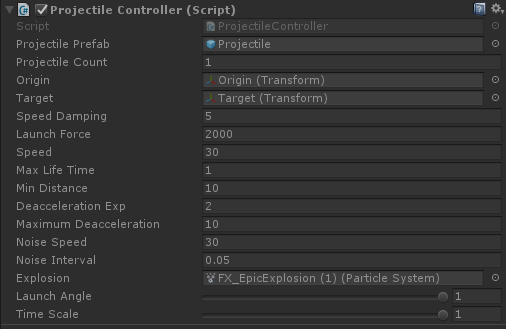 I have implemented controls to add random velocities at fixed intervals. I called it Noise for some reason, and you can see the fields of Noise Speed and Interval. Basically it generates 3 random numbers to assemble a Vector3, then I add it to the body.velocity of each projectile.
The body.velocity is always lerped between the current speed and the next, which is based on the noise velocity and in the direction to the target. Doing so creates de effect of a curve trajectory, as it won't point immediately to the target.
The maximum speed of each projectile is also lerped to a value, called Maximum Deacceleration, that makes it stop in midair. Then it changes back to the normal speed, going directly to the target.
Hope you like it so far, and any questions or critiques are welcome