Final VFX:

This is my first time participating in a sketch. There's so many incredible and inspiring effects I've seen made on sketches I really wanted to join as well, but never really had the time. So here I am with my first post ever, and honestly a bit nervous seeing the incredible vfx you guys make.
The idea is this:
An orb spell that generates strong winds in an area. Still not entirely sure about the spell gameplay purpose. Wanted to make it just a pure damage spell, but might go the druid, healing winds kind of vibe, and adjust the colors and shapes to make it read more positive and helpful.
I want to make the winds with swirling meshes and textures, perhaps some particle systems to add interest. I'll try to focus on readability, making sure the limits of the area are well defined, but at the same time make sure that there are enough secondary elements that it doesn't feel boring and non-impactful.
Concept art and references: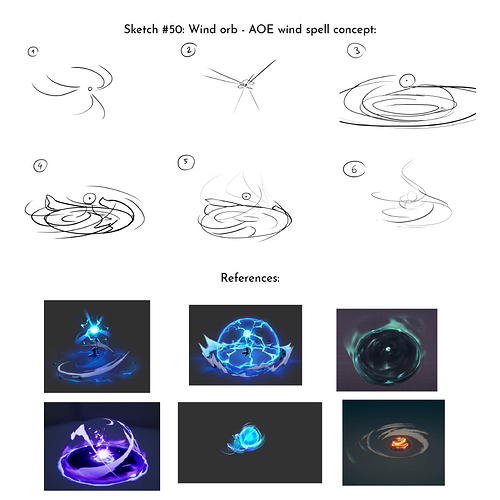 Links to the reference sources:
https://www.artstation.com/artwork/AroDqo
https://www.artstation.com/artwork/3oO1nD
https://bit.ly/3IYqc8y
https://www.artstation.com/artwork/RY23ym
https://realtimevfx.com/t/harry-alisavakis-sketchbook/8841
It's honestly a bit embarrassing sharing the concept but okay. I'm thinking swirling mana collects into a small sphere, then explodes into the actual AOE spell. I want the spell to be smooth, so I don't want to overdo it with the anticipation. Might even skip step two entirely.
I can visualize the effect and the timing in my head and it could be cool. Just hoping I can actually make this.