DISCLAIMER : This post isn't political or don't aim to. Sorry in advance if I hurt someone's sensibility or subject, wasn't my intention.
---
Latest WIP :
https://www.youtube.com/watch?v=IZogVBjXy5Q&feature=youtu.be
Thumbnail :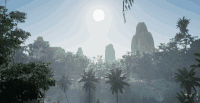 So let's start with the idea and the moodboard :
I think I will dig into Vietnam's War area, looking for a cool Napalm explosion looking. Started to dig into reference and footages :
Looking into film scenography, I love some shapes and explosions in Apocalypse Now :
And some kind of other footages :
So for the effect, I will have 3 main shape and simulation :
A first one with fumigene, like the scene in Apocalypse Now. A big smoke simulation to target the bombardement point
A second one with phosphore explosion, the one in white in the first vidéo. Like the shape it give, and add more contrast on the whole explosion
A third one with a couple of simultaneous deflagration, with the start of a burning forest to the end.
I hope I will do as much as idea I have for this, and don't know yet if I aim a more realistic shape for a Napalm explosion, as we can see on the first footage, or more Holywoodian one, with big oil explosion and deflagration.
I will post soon a WIP, since I setup all my scene, the next thing to do now is : BIG SIMULATION in Embergen !
Good luck everyone