Hey all, I am new around here and to VFX as well. Recently was let go of a job, so while working on my environment portfolio and applying to new positions, I wanted to take this chance and try to learn how to do some VFX inside of unreal engine as its something I've always been interested in.
So I've been scouring youtube for tutorials and while I can follow and plug in the same numbers, I still feel lost when trying to make something myself from scratch. So I am putting in a goal, to do one vfx a day. I will still be searching for tutorials but if I follow one, I will try to remake it from scratch the next day without the tutorial to try to internalize it.
So, with that end, here is my first go at it. I want to focus on creating fire since that seems to be something very common. I found a tutorial by Sir Fansi where he recreates the cascade fire in UE but using niagara. I tried to take it a little further, tweaking some values to get it to be a little closer and then adding some extra things (like the sparks flying off) that are not part of the tutorial: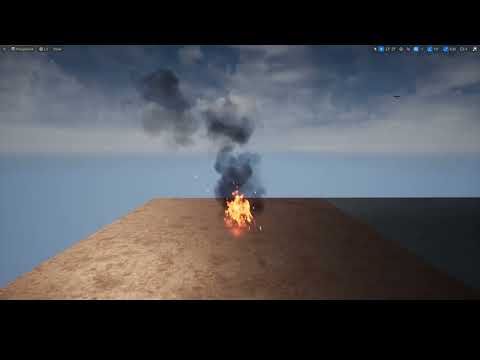 There are two things that are missing from the cascade fire in UE:
My fire does not move/follow the ground like the cascade one does. I tweaked speed and location values but was not able to get any closer.
The embers that fly into the air do not revolve around the fire enough. I also tried playing with the speed and a vortex speed to try to get them closer, but this was as far as I was able to take them.
Other than that, I am happy with this first attempt at it. I will probably try to find other fire tutorials that create it in different ways (like with a shader) and then attempt to create a torch fire on my own.
Any advice and feedback you have, whether about the vfx itself or on techniques to learn vfx as a whole is greatly appreciated.