I chose cute for my VFX.
Here's the final YouTube version:
https://www.youtube.com/watch?v=LhkXpzqE09Y
Here's latest GIF version: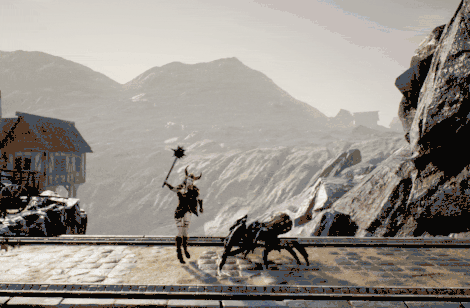 Here's my concept art I created: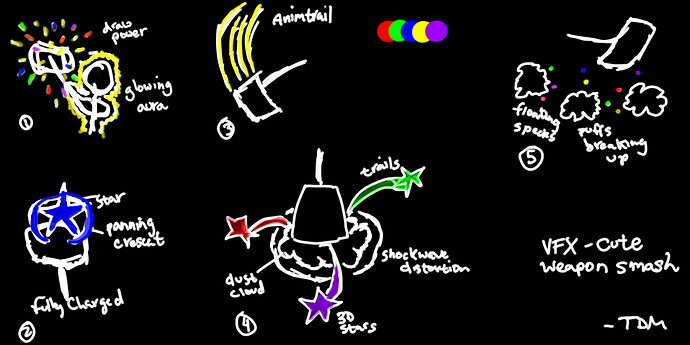 I wanted to take on this sketch for a couple reasons:
To prove to myself that I am passionate about this craft and I really want to turn it into a career.
To learn some new skills that take me out of my comfort zone. New ones I've come across so far:
Building a character-specific workflow for effect making.
Modifying pre-existing animations to get better timing in effects.
Modifying character materials to communicate effect gameplay.
Adopt cinematics in my work because as it turns out I'm crazy for making movies.
I'm pretty satisfied with the work I did here and won't be working much further. I'm open to any specific questions people might have on any of the materials, textures, particle systems, or sequences I did. I know I still struggle to hit triple AAA quality, but fun is what these contests are all about!!
Challenges I've faced:
Rigid body simulations in Blender don't import as a single animation. I tried creating a ground cracking open on the hammer.
Finding affordable character meshes with animations that fit my vision. Hammer (Mallet) choices were $50+ so I settled for a cheaper alternative with the morningstar. I like the idea of supporting other artists by buying their assets for my effects. Will do more in the future.
Hours of work lost from frequent crashes. Stopped using 4.25 because anytime I opened the explorer the engine would crash. Defaulted to Cascade.