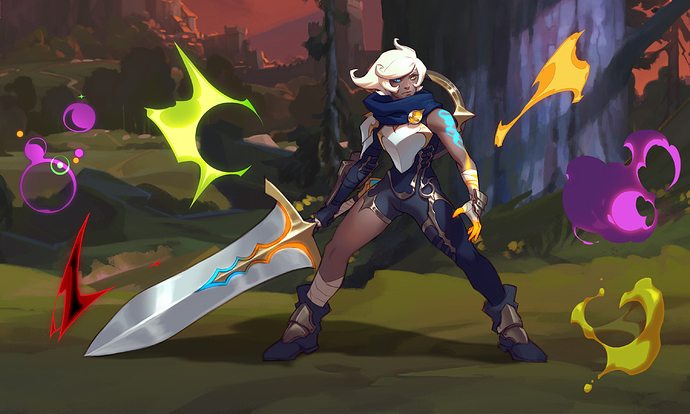 I'm so excited to give a first look at what we've been making for our next class: Tradigital 2D FX Animation. I'll be posting updates on our progress here periodically. To kick it off the news, we will have Alex Redfish designing effects for three abilities on a working in-game character: Sword swipe, magic missile, and targeted summon! It'll be the first of its kind, where new and seasoned students can actually plug their work into a production-grade functional spell system, animated character, and beautiful environmental backdrop as they follow along. And yes, we plan to develop Unreal AND Unity versions of these lessons, each with a fully functional game project.
To see the in-game prototype with temp FX, see the Artstation link below. And of course, you can always join the mailing list over at VFXApprentice.com to be notified when the class is ready to launch toward the end of this year.
Here's a quick breakdown of a few things to expect (more details yet to come!):
Course Launch Date: December 2020
Course Contents: Part 1: 2D FX Animation. Part 2: 2D FX Advanced Techniques. Part 3: In-Game 2D FX Development. I want this class to be the definitive one-stop shop to learn everything you could need to know about 2D FX: the fundamentals, post-processing, and modern workflows to get these implemented seamlessly into a professional, playable game experience.
Course Instructors: So far, myself and Alex Redfish are slated as instructors, with more to be announced in the coming months
Course Price: Since this course will have 3 parts, and Booms and Blasts has 2, expect it to cost more. The exact price will vary based on guest instructors we get, and the final scope, which we won't know until closer to launch. Like Booms & Blasts, an affordable payment plan option will be available.
We've posted more artwork from the in-game mock-up over on Artstation, where you can find links to all the amazing artists who have contributed to the project thus far. It's been a massive cross-discipline team effort to get the project ready for FX production, and I have been honored to collaborate with these fine artists:
https://www.artstation.com/artwork/28k85K
Let me know what you think! What would you like to see included in the class? Interested in lending a hand? Hit me up!