Current WIP: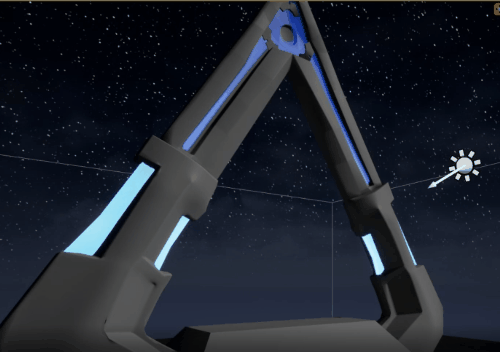 Hi, all! Longtime fan of the site, but I just had to join in on this sketch. Super fun topic! So, I might have bitten off a bit more than I can chew with this, but what the heck. I'm really digging the theme.
Mood Board
As you can see from my reference and concepts, I'm heavily inspired by the architecture of the Asura from the Guild Wars series, as well as the concepts of Io from Destiny 2. Lots of geometric shapes everywhere, with glowy, almost circuit-patterend bits. I really want to explore a bit of material animation along with this, so we get a believable build-up of energy from within the gate.
As for the actual gate effect itself, I wanted to pattern it off more of a modified version of the mirror dimension from Doctor Strange. I want the destination to sort of bleed into view, as the air within the gate
solidifies, and cracks like glass, almost as though reality is shattered by the gate. My first thought is I could pre-fracture a plane, and animate the shards separating. I'd really like at least some of the shards to sort of float out from the surface, and sort of hang in midair as the sustained open effect loops. Then, as the gate shuts down, I'd like those shards to act like gravity takes over, and fade/blink out in some tiny bursts close to the ground.
Hoping to get this all done in UE4, on-time. I'm still a bit rusty on my Unreal knowledge, as I'm mainly Unity-bound at work.