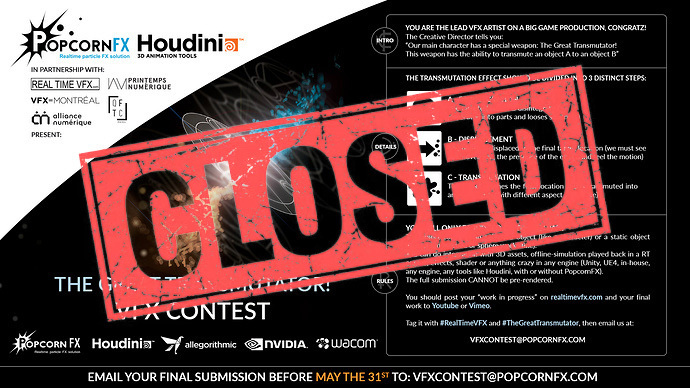 Dear VFX Art Extraordinaires!
We'd like to thank you, so enthusiastically, for the amazing submissions and reception to our very first community art contest. The staff of the community, and our sponsors have been thrilled by the topics and discussions spawned from all of your incredible work. See the submissions that people have shared with us here: https://realtimevfx.com/c/Events/competition-the-great-transmutator
Our panel of judges is primed and ready to start reviewing the submissions. We're giving them the month of June to discuss and come to a consensus. Please expect an announcement from us and PopcornFX in the beginning of July - those winners will be contacted to schedule prize deliveries at that time.
I'd be amiss if I didn't take the opportunity once again to say to our sponsors -
PopcornFX
Houdini by SideFX
Substance by Allegorithmic
NVIDIA
Wacom
Printemps Numérique,
BCTQ / QFTC #VFXmontreal,
Alliance Numérique
Thank you so much for helping us put together this event for our community, and for supporting real time visual effects across the industry. A very large thank you, of course, has to go to the team at PopcornFX, including @green_eyes, @cmirey, and @5919, for throwing this entire event together.
Finally, for those of you talented contestants that are selected as winners - we'd love it if you'd be willing to take a picture with your prizes for PopcornFX and us to share with our partners and brag about you!
Thanks everyone! Expect a new #VFXSketch to start up with @NateLane at the helm again within the next few days!