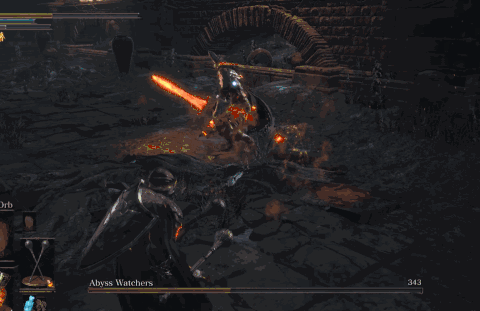 Hello !
I'm trying to copy some effects from Dark Souls 3, especially the trail effects of some bosses (not the trail of the weapon itself, but the fire effect in this example).
While it seems like a pretty common effect, I struggle on a few points to get something similar on Unity. I found 3 approach :
Dynamically emit a ribbon (particle strip as unity call them) from the sword, but since the animation is fast, it breaks the ribbon.

Create a ribbon mesh and render the texture on it then animate it correctly to synchronize with the sword motion. While this is less flexible, it also solve the broke ribbon. BUT, I still have one problem : in my example, the ribbon always faces the camera while still keeping the initial curve, to avoid getting a "2D" fire, which isn't very convincing. Ribbons spawned by a particle emitter can do that too, but I have no idea how a mesh could do the same.

I could also spawn particles quad along the trajectory with some animated texture, but it wont look like a continuous, moving fire like it does on the gif above, which is precisely what I find interesting in this effect.
Most slash effects I saw, if not all, are rendered on a flat mesh, which is ok for giving a sharper feeling, but in that case, the fire look like a volume, which is slightly different, and used a lot in DS3.
I hope I'll get some advices on common methods used to achieve these effects, I'm really discovering VFX right now !
Also, here is a link with a screenshot so you can see the effect without movement. I can also link a video if you want.
Thx !
EDIT : Hope I'm allowed to post content from a game, tell me if it's not ok