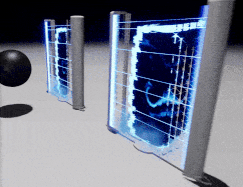 hi, I hoping if someone could give me C%C on this portal VFX i made, this is my initial pass.
Looks pretty nice!
Couple of things I might want to revise are:
The smoke feels odd and out of place. Not sure if there's a need for it
The panning vertical lines from the center to the outside are a bit to strong perhaps and perhaps interfer with the effect of the ball touching the surface. I would lower the opacity
The whirlpool type effect could be emphasised a bit more, since it's not too visible on the black background.
Anyway, these are my points, so feel free to try them and see how it looks
thx you so much, any feedback is good,