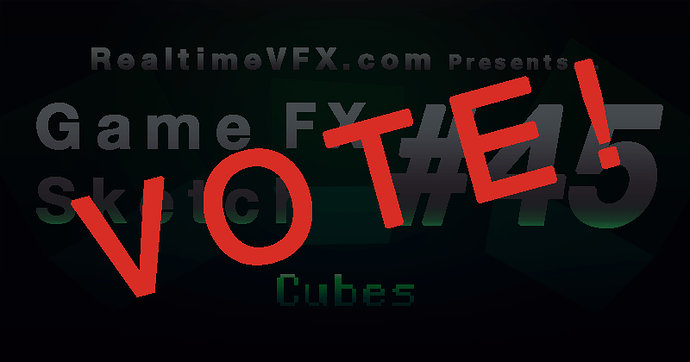 To vote, head over to Sketch 45 - Cubes (CLICK HERE) and take a look at each entrant, then press the vote button on the top left to vote for your favorites!

Rules:

Make an effect using only mesh particles, to which only a cube is assigned (3 sets of parallel faces all orthogonal to eachother)
No extra vertices (Only the 8 vertices required for the cube)
Cubes can be scaled non-uniformly.
You can do what you want with the materials.
Only particles can be used to make the effect (You cannot prebake into vat and run it from animation toolkit or static meshes etc…)
The theme is free to be used as you want.
Vote timeline:
September 2nd -> September 10th
You can vote on your own entry! We just ask you be honest when rating your own entry and others. We're all part of this small community and ask you to show respect and intengrity at all times!
Note: you must be trust level 2 or above to vote
We'll release the results on the 10th! Happy voting