Man! I really hope to see his course content available outside of China some day. Would be amazing!
Hey jason ~ i try to ask customer service, but unfortunately they said you need bank account at china, so they can verify something something, that mean only available for chinese.
but maybe you should contact cokey via wechat, i think you have bigger advantage to take about this ,haha
maybe cokey will figure out how to make it outside of china.
btw jason, your online course when will available? hahahah

I'm hard at work, I promise! I haven't had updates for a while, because a lot is in progress, and not quite ready to show. More to come soon!
Also, thanks for the recommendation about getting in contact with @Cokey_Li. I'm definitely rooting for him to make it big outside of China!
Another update! I just sent out an email to all those on the e-mail subscribers list. If you didn't get it, check your spam folder, and be sure to unflag it as spam if you want the launch announcement email later on.
First, you'll notice I changed the title of the thread from "Killer VFX Course" to "VFX Apprentice," which will be the name of the online VFX school. Honestly, "Killer" never really felt quite right, and a few people mentioned it was rather off-putting. Plus, VFXapprentice .com was available (I've just parked it for now, nothing there just yet!)
Okay, so lots to discuss. First: some progress on Unit #2: in-engine particle animation!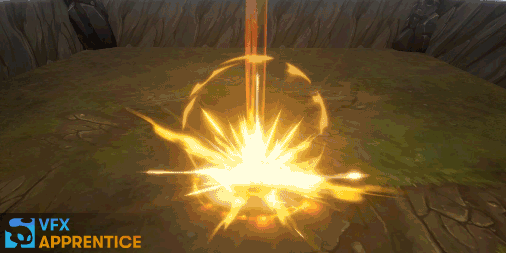 Special thanks to @Jason_Chisolm and @Baskins for doing such a great job on the first effect. It's been an absolute pleasure working with you. And of course, I'd be lost without @Dave_Shovlin doing such a fine job on the concept art, additional shader features, and a couple of the upcoming particle systems.
We've also got 3 more particle systems in the works, one for each of the concept paintings I posted previously. All of these will share a single, well-documented, well-optimized Uber shader that will have intuitive legibility for the beginner, as well as strong utility for the seasoned pro who might want to modify it with their own features. Here's a quick preview of where the shader is at so far: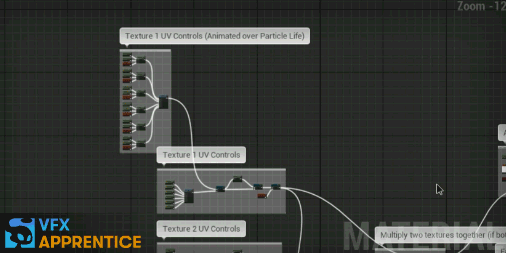 I've asked @Keith to lend his expertise and critique the shader before we release it, to ensure we keep everything at the highest standards possible. Of course, once we go live, I'll love to hear form all of you on how we can make all the content even better (yes, I plan to continue updating the course after launch… more to come on that later!).
And finally, branding! For the logo & splash art, I wanted an identity that's approachable to the newbie, while speaking to the epicness of our craft. One purpose of VFX Apprentice is to diffuse the fear around learning VFX, and bring in a new generation of artists that otherwise may not have found their home here. All this while offering new insight and techniques to the seasoned pros. The logo icon was a collaboration between myself and @Denorelli. And to hit the right spectrum of appeal in the splash art, I contracted Jeremy Anninos, a super talented splash artist on League of Legends, to bring the site's approachable mascots (Sparker and Aquanna, of "Alight" fame) into fully illustrated fidelity. This image will be used as the landing page splash, and also in various marketing materials: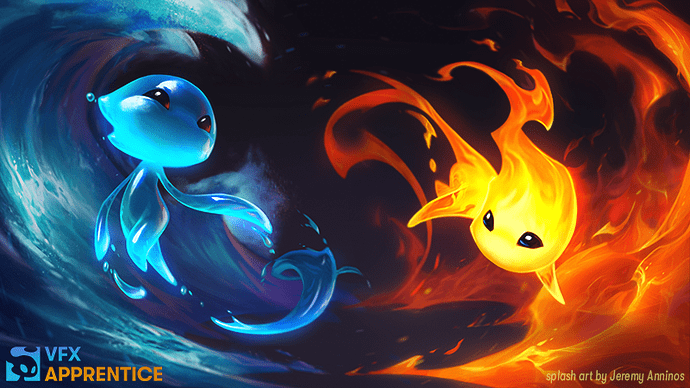 Phew! That's all for this update. Okay, now back to work! lol.
Let me know what y'all think!
Much love!

Thank you @Keyserito

Progress!
Since you are this point now, I have a question; What method(s) do you intend to use to teach?
(Your post gives an idea, but best not make an assumption.)
All-in-all looks good so far @Keyserito .

Good question! There are a couple of teaching methods I'm going for in this course, based on how I learned from my mentors, and how I've seen past students of mine learn fastest:
listening to lectures on the theory and philosophy that drives the creation of the content
watching someone else create the work while describing their technique & process
tinkering with high quality assets hands-on, to discover how it all works
I'm taking great pains to ensure that all three of these are covered in a coherent, digestible format, where students are uninhibited to learn at their own pace.
This is incredibly awesome!
love the impact… thnx for sharing… really inspired me to make something like this…
Here's a preview of the zappy-zap explosion!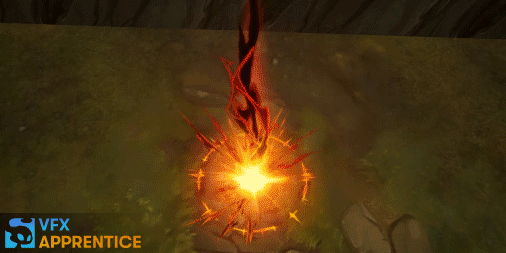 Hi, Jason! Today I saw a great message that the magesbox.com will up line a cool VFX class with Riot Games in September, is that your class?

应该是何sin!!!!!!!!!!!!!!!!!!!!!!!!!!!!!!!!!!!!!!!!!!!!!!!
Oh, cool! Haha. That's not me. I think they're working with a Riot VFX artist from China. It should be a cool class!
Well, thanks for your replay! (To be honest, I am more looking forward to your lesson!)

昨天magesbox网站上还有这张图,今天进去发现没了,本来以为是 Jason 的课程,我兴奋了半天,结果不是,2333
The Unreal assets and a breakdown video of this effect will also be included in the course: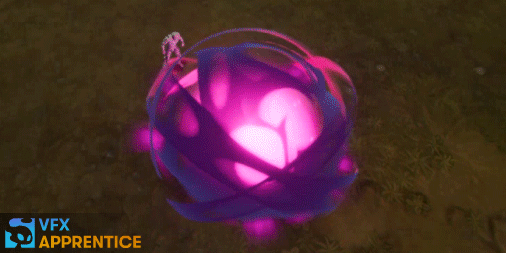 Props to David Shovlin for his amazing composition and Luke Mason for his polish and after-wisps. These two really crushed it on this one!
Man, can I just throw my wallet at you guys already!!