Hey everyone! I've been working on some effects for some time and wanted to start my own little Sketchbook on here. I've been lurking this community for a few months now and I've learned a ton so far but there is still more I can learn and I welcome any and all feedback from this community.
The issue I've been dealing with lately is my blaster effect shown in this video.
https://youtu.be/t6OIIZbLwxM
One of the issues you can see is that the effect does not line up properly with the path of the projectile.
Another issue is that the effect itself does not remain attached to the end of the gun.
I've attached a screenshot of the guns blueprint.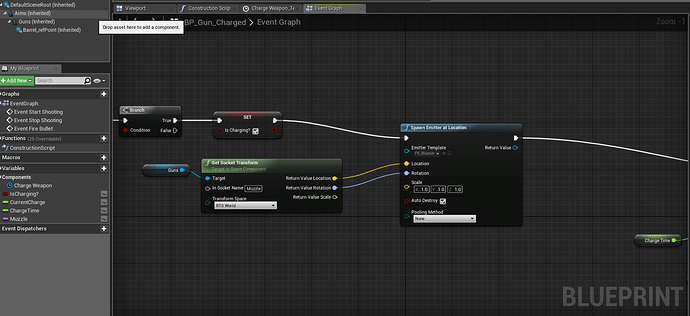 I've played with both the "Spawn Emitter Attached" and the "Spawn Emitter at Location" modules and the latter seems to have gotten me closer to the desired goal but I'm probably missing something.
The original blueprint for the weapon comes from the Shooter Tutorial series by Ryan Laley who has some fantastic tutorials for creating weapon blueprint classes. The effect spawning is my own addition to his blueprints that I've tried to hammer into the process. https://www.youtube.com/channel/UCsS5i15vvUbwfr_1JdRKCAA/playlists
Any critique or feedback is welcome on this!