Hey guys I"m trying to recreate the Druid's "Fissure" spell
I wanted to make the ground crumble and break away like it does in the animation, but I couldn't figure out HOW to do that, so I figured that animating a mesh would be a close second.
If I can figure out how to animate a decal, I'll just do that.
I also want to add a smoldering ground effect , where the flame trails hit the ground, but I'm trying to figure out the best way to do it.
-Animate a Decal?
-Vtex animation via max or Houdini?
-Animate a mesh again?
I also want to figure out how to activate it via blueprints. Like Is there a way to make it so when my particle collides with the ground, it spawns another particle from another emitter?
I'd also like to have it so, the rocks spawn under the mouse on click, but i'm not really sure how important that is.
I heard I could use alembic files in VFX, so like. I can animate a mesh, and bring it in using that. However I couldnt find any source that would show me how to do that. If anyone has any tips on how to do that, it would be greatly appreciated haha.
Mine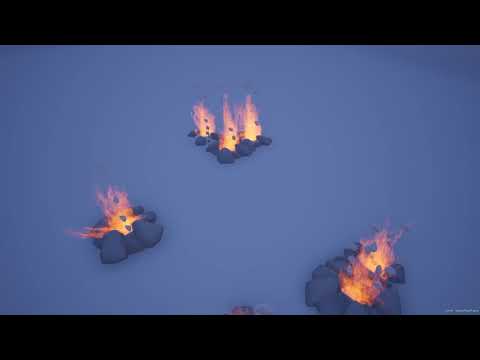 Original
https://imgur.com/Lb2oIA9